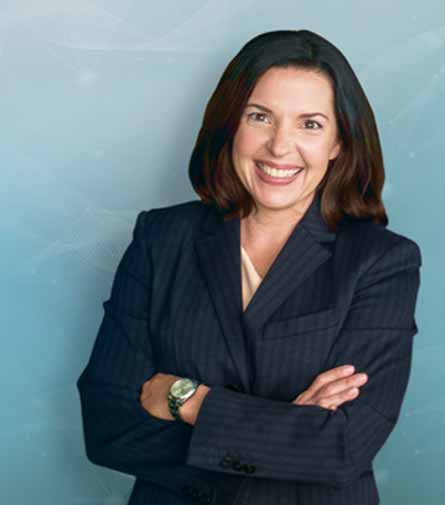 Shacey Petrovic, President & CEO
Currently, the Centers for Disease Control and Prevention (CDC) reports that 34.2 million Americans, or 10.5 percent of the U.S. population, have diabetes. When it comes to managing this chronic and pervasive disease, a commonly voiced concern within the diabetes community is the issue of choice. For those living with insulin-requiring diabetes, the options include a regime of multiple daily injections or the use of an insulin pump.
Insulin pumps are small, computerized devices that deliver a continuous dose of rapidacting insulin through a tiny flexible tube called a cannula that is inserted under the skin with a fine needle. The idea is to mimic how a normal working pancreas would release insulin into the body. Pumps are designed to deliver insulin 24 hours a day according to a programmed plan that is unique to the wearer and typically includes two methods of dosing. The basal dose accounts for blood sugar levels between meals and eliminates the need for an injection of long-acting insulin. The bolus dose controls blood sugar levels after meals, which can be used to correct a blood sugar that is out of range.
One of the many pump options available to the diabetes community is the Omnipod DASH™ Insulin Management System. Designed with user discretion and convenience in mind, the Omnipod DASH System is the first and only tubeless device that can provide three days of nonstop insulin delivery. Its unique design consists of just two parts: a lightweight, tubeless, waterproof, wearable Pod controlled by a smartphone-like touch screen Bluetooth
®
enabled controller. The Pod can be worn almost anywhere an injection would be administered, and the automatic insertion to activate the Pod means never having to see or handle a needle. A suite of mobile apps for iPhone/iOS users allows for even more discretion and convenience, providing remote access to diabetes data.
Ultimately, the Omnipod DASH System provides users with a simple and effective solution that fits easily into their lives, eliminating the burden of syringes, pens, and tubes.
What's more, it's available through the pharmacy with no commitment or lock-in periods, depending upon insurance. These are some of the reasons 97% of users would recommend it to others. The Omnipod DASH System has also been voted the 2020 Product of the Year in the Health Systems category. Product of the Year is the largest consumer-voted award for product innovation with 40,000 U.S. consumers surveyed by Kantar. According to Shacey Petrovic, President and CEO of Insulet Corporation, the makers of the Omnipod DASH System, "We have to win over our customers every three days and not every four years like a conventional tubed insulin pump company." It is a philosophy that is reflected in Insulet's mission to improve and simplify the lives of all those living with diabetes.

"One of our key goals is to deliver consumer-focused innovation driven by an intuitive platform and unique pay-as-you-go business model. By eliminating complexity and restrictions, we are making Omnipod available to a wider range of customers to ultimately simplify their lives with diabetes "

Designed with the User in Mind

In an age where consumers have become accustomed to technology that is well-designed and able to seamlessly integrate into their lives, Insulet has invested significantly in usability testing. Before launching a product, in-depth consumer research is conducted. Shortcomings in all existing pump technology are identified and evaluated, and design goals are reimagined and set. Insulet's cross-functional teams, comprised of design engineers, clinical specialists, as well as regulatory and quality control experts, actively collaborate to develop pump technology that will work successfully across a broad and diverse population of users, as well as one that meets FDA requirements for safety, security and efficacy.

Opening Channels of Access

Doubling down on their customercentric strategies, the company has increased access to its product. "To help drive more adoption and break the barriers that have existed for 30 years with insulin pump therapy, last year we launched an innovative business model through the pharmacy channel. This is a very convenient way for people to access our intuitively simple, consumer-friendly technology," states Petrovic. People with diabetes can now purchase the product from their local CVS Health or Walgreens.

Traditionally, insulin pumps have been reimbursed by insurance providers as durable medical equipment (DME), where a customer was locked into a fouryear contract, limiting their ability to adopt next-generation systems without high out-of-pocket expenses. Insulet's move to the pharmacy channel also means payers can benefit from a more predictable co-pay, as opposed to a sizable deductible. This innovative business model, coupled with the move to disposable wearable technology, has been instrumental in negating the challenges around cost and complexity, the primary barriers to insulin pump adoption.

Next on the Horizon

While 2019 was an exciting year for Insulet with the introduction of the Omnipod DASH System, 2021 is poised to be even more so with the expected launch of their next-generation product, Omnipod, Powered by Horizon, an Automated Insulin Delivery System. Expanding upon the Omnipod DASH System, the Omnipod powered by Horizon System leverages glucose values from a continuous glucose monitor (CGM) to predict future glucose values and adjust insulin delivery. Controlled through an app on a user's personal smartphone device, a unique feature that will be offered with the Omnipod powered by Horizon System, the integrated platform will consist of the trusted tubeless insulin delivery Pod and a CGM. Through a simple, intuitive design, glucose data from the sensor will be sent directly to the Pod that is embedded with an algorithm to automatically adjust insulin delivery, without the need for an additional device, connection, or tubing. This integrated system will be designed to always remain in automated insulin delivery mode and can be controlled through an app on a user's personal smartphone to manually take a dose of fast-acting insulin, or bolus, before meals for optimal performance. Additionally, the integrated platform is expected to be the first combined system with a fully disposable wearable sensor and pump.

The Mission

Insulet believes all those living with diabetes should have affordable access to the care, treatments, tools, and information needed to successfully manage their diabetes, stay healthy, and achieve positive outcomes. The diabetes community has long anticipated these latest innovations and is grateful for Insulet's relentless drive to simplify life with diabetes.